Aqvastar SmartFlow Solutions share their experience – Working with Rixyncs as CRM partner
Rixyncs has been a trusted CRM service provider to several SMEs ranging across different business domains such as construction, sanitary ware, home appliances and transportation for over a decade. One of our highly valued clients is Aqvastar SmartFlow Solutions – a water works management company dealing in Swimming Pool construction and maintenance, Irrigation and Fountain installations. Aqvastar has been our steady customer for over 3 years now.
We recently caught up with Mr Muthu Venkata Selvam, co-founder of Aqvastar, for a quick chat. We are extremely glad to present to you some excerpts from our chat, where the customer shares some valuable insights on CRM implementation for SMEs. He also had a good word to say about Rixyncs contribution to their company's success. Aqvastar has successfully implemented vtiger CRM in partnership with Rixyncs and as a result they have been able to achieve over 80% success conversion rates in their sales leads and remarkable business growth.
Read on to know more about the discussion.
Company Website: https://aqvastar.in/index.html
Discussion Summary
>>  Tell us a little bit about your business
Aqvastar is a product distribution company dealing with swimming pool, fountains and irrigation. With operations spread in several cities across India, our sales team operates primarily from Bangalore. We are working with several MNCs as distribution partners. We work in partnership with several reputed builders and architects.
 >> What were the sales and customer support challenges you faced before implementation of vtiger CRM?
Sales follow-up was one our biggest challenges. We used to capture leads in excel sheets and had our own internal process for tracking them. However, assigning them to each of our sales representatives by segregating the leads state-wise, customer-wise, etc was very tedious work. For the management team to track and follow-up sales calls based on preliminary leads was not easy. This was one of the biggest difficulties in scaling up our operations.
 >>  How was your experience of dealing with Rixyncs?
We have had a very pleasant working experience with Rixyncs right from Day 1. We got a clear briefing from them on what CRM is and how it works. We did a joint walk-through and Rixyncs showed us what can be achieved with CRM implementation. From our side, we listed down our expectations and problems we were facing. Rixyncs successfully delivered all that we expected. The beauty of the thing is they gave us a lot of space to express our opinion and ideas, and worked with us to achieve all that we wanted.
 >>  What were the tangible improvements you noticed in your business after the CRM implementation?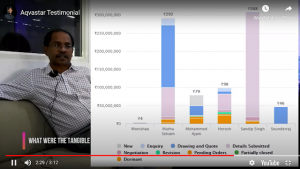 The most obvious and tangible benefit of implementing CRM is the conversion rate of follow-ups. Earlier we were not sure of what rate of conversion was happening on the targets set. Now the conversion success rates are very clear at the company level as well as at every sales representative level. We have achieved more than 80% of targeted leads successfully converted as business. That gives the sales team and the management confidence to scale up and pursue more aggressive expansion and growth.
>>  Do you recommend CRM for small enterprises?
It is a tricky question, really! But for any sales & marketing focused company, CRM implementation is a must. Our company caption is about going beyond set limits and milestones. For that, you need a supporting system that helps your business grow faster and reach more people. I feel CRM is one of the important tools to achieve this.
We at Rixyncs are a leading CRM service provider based out of Bangalore, India. We have been in the business for over a decade and have helped hundreds of small and medium size companies successfully adopt the CRM enterprise business process. As a result, our clients have seen growth of upto 35% in their revenues.


We are global premier partners for vtiger and affiliated partners with all the major CRM providers like SalesForce, Zoho and Microsoft Dynamics. Get in touch with us and we will be glad to give you a demo on how your business could benefit from acquiring the CRM advantage.

Author Profile – Anuradha is a freelance writer cum corporate trainer in the IT/Telecom domain with 20 years of experience. She served in senior technical and management positions in Huawei and TCS for 10+ years. Then gave up the traditional corporate ladder to go solo – in order to escape horrendous city traffic and to be at her own boss!
VISIT US AT http://www.rixyncs.co.in/